Richard E. "Dick" Sockol
Wavemaker Trophy
Boat of the Year
Congratulations to EVIL MONKEY, our 2016 Boat of the Year!
In 2005, after the death of the Breakwater Irregulars founder Dick Sockol, the Management Committee decided to remember Dick with a trophy in his honor. The "Wavemaker Trophy" was then created to honor the "Boat of the Year", named after Dick Sockol's series of successful yachts of that name. The Boat of the Year is awarded to the boat in the most competitive division that year. It's the boat that beat the second and third place boats by the smallest margin. In 2006 a permanent trophy was designed and donated by Dick's widow Marjorie. This permanent trophy was presented to the Halloween Yacht Club, a club that Dick and Margie were members of for many years.
At the 2005 Awards Dinner the trophy was presented to Ron and Marty Weiss for the outstanding performance of their boat, Crazy Horse. In 2006 the award was presented to Rich Nugent and the crew of Xanadu. Then the Xanadudes did it again in 2007.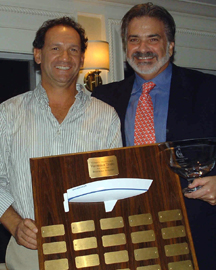 David Sockol, grandson of Dick Sockol, representing the Sockol family (left) and Rich Nugent, owner of Xanadu, recipient of the 2006 Wavemaker Trophy for the Boat of the Year at the 2006 Breakwater Irregulars Award Dinner. Smiles even wider when Rich and crew did it again in 2007!
The permanent trophy resided at Halloween Yacht Club for many years.  The photo at right shows BI Commodore Diane McKeever (2007) presenting it to HYC Commodore Ken Makowski.  It was later returned to us, during a remodeling at HYC.  Its future location will be determined shortly and made known here.