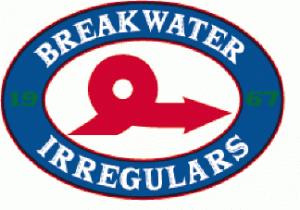 June 23 race canceled on the basis of a Severe Thunderstorm Watch and observations by member boats in the starting area.  Thanks to all concerned for understanding that these decisions are never perfect, but always intended to avoid leaving you stuck out there in dangerous weather.  Murphy's Law seems to follow up with a demonstration of how wrong we can be: bright sunlight after a cancellation, squalls after a failure to cancel.  As much as we hate canceling, we would rather err on the side of safety.  Plenty of good Tuesdays left!
Welcome, ooJah (J-122), the fleet's newest member!
If you haven't done RC duty in a while, visit the RC Duty page, pick one of the open dates, and contact Tony Olmer to make it official.  You will gain a new perspective!
"Radio Check!"  No need for this on VHF-5.  For several years, SeaTow has provided a free automated radio check service on four VHF channels.  The channel for Western LI Sound is 27.  So, please, no more radio checks on VHF-5 during our starting sequence.
Thirty-one boats registered (two of them not yet paid!) and some stragglers still expected.  It's a good fleet, but let's see if we can get some more boats to join while we have so much of the season ahead.  Our non-spinnaker division is viable, so talk to some of those guys who say their boats aren't equipped for racing.  This is a new opportunity for them.
Registration is still open HERE.  (If you ever encounter "Registration Closed," contact us.)
Special Note (5/1/15): If you need crew or you are crew in need of a boat, visit our Yachtscoring page and follow the link to "Crew / Boat Boards."  We put it there, rather than here, because that is the page skippers visit after every Tuesday night race to see the results.  All entries are manually reviewed, in order to avoid spam, so your entry will not appear immediately.  
GREAT KICKOFF on May 5!
New boats joining the fleet!  New crew joining old boats!  Also, lots of volunteers for Race Committee duty.  BI is alive and well.
New members welcome!  Returning old members, welcome back!
The "Irregulars" in our name means the fleet includes a broad range of sailboats and sailors.  Today's faster divisions include some impressive "racing machines," but the Breakwaters' backbone has always (i.e., since 1967) been the cruiser, with its galley, head, and bunks, sometimes even a washer, dryer and nursery!  It's friendly competition that gives us a weekday opportunity to enjoy our boats and the Sound.  That's why it just kills us to see sailboats growing barnacles at their moorings as we leave nearby harbors on Tuesday evenings for every week's best time on the water.  Almost any mono-hull sailboat can be your platform for fun on Tuesday nights, so gather a few friends; come out and join us!  Just starting* out or can't find a full crew every Tuesday or just prefer sailing without a spinnaker?  Try our non-spinnaker division.
What about "Breakwater"?  Well, races used to begin and end at the Stamford Breakwater.  For several good reasons, we now start at the Cows Buoy (32) off Shippan Point, but the name is not changing.
The Race Committee reads the wind and posts a course, sending us around one or more other buoys.  The format is designed to get us racing a little after 7 PM and have us off the Sound before dark (and it's usually successful).
We race on sixteen Tuesday nights every summer and, once your team gets a taste of it, they'll be asking you to sign up for some weekend races in Stamford and nearby areas.  Examples: The 30th [Stamford] Mayor's Cup Race on Sunday, June 14 and the 50th running of the Valeur Jensen Stamford-Denmark Race on Sunday, September 13.
If you like sailing and want to share the fun with your friends and/or family, well, that's exactly what Breakwater Irregulars is all about.  Everyone who sails on Tuesday evening is a winner.
Family?  Many of us remember Bill and Evon Malloy heading out to Tuesday night races in the 1980s, with netting on their lifelines to keep their infants aboard.  Today, some of their sons and daughters sail with us every week.  Indeed, many of our members are the children and grandchildren of the earliest Breakwater Irregulars.
Friends?  It's amazing how long some of us have been sailing together.  We have crews that started in their 20s and 30s several decades ago.  They move about their boats more carefully now, but they make up for that with an intimate knowledge of the racing area, their boats, and each other.  (No matter how you finish, there is no better way to learn how to sail your boat than to race it against similar boats.)
Sailing breeds great memories.  Our favorite way to end a Tuesday night is by de-briefing over some food and refreshments.  For the love of sailing, the Stamford Yacht Club welcomes our fleet to its Vineyard Deck after every race, offering a special discounted menu and charging privileges to all of us.  It's an opportunity to meet the people you beat around the buoys, or who beat you.  Racing is even more fun when we all know each other.
The awarding of trophies is an excuse for an off-season party, and we have one every year on the Saturday before Thanksgiving.  Save the date.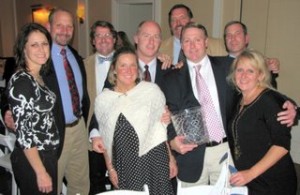 This very informal but enduring association of sailors was founded in 1967 by Dick Sockol to race one evening a week on Long Island Sound near Stamford. (For more history go HERE.)  We WELCOME you to become a part of it.
Registration is on-line at YachtScoring.com, as are the scratch sheet, sailing instructions, and weekly racing results. You can see some photos and read about the club's history, our recognition of outstanding sportsmanship, and other topics by simply clicking on the tabs above. Any of our Officers will be happy to talk with you.
Don't have a boat?  Have a boat but don't have crew?  We have a "Crew Needed / Boat Needed" page on the Yachtscoring site.  If you try it and it doesn't work, please contact us.  We'll make it work.
Do you need a PHRF (handicap rating) for your boat?  You can obtain one on-line through the Yacht Racing Association of Long Island Sound at www.yralis.org. BUT, if you want to try racing with us some Tuesday before getting a PHRF, go to our Officers page and contact one of us for instructions. Yes, you can "try before you buy"! We're sure you and your crew will love it, just as we did the first time we tried it.
WELCOME to the fleet!
Oh, we forgot to mention the sunsets!  Please visit our Photos page.
*The most common reason for sailboat owners NOT to race is the fear of causing a collision in all that fast traffic.  Despite the appearance of disorder, racers follow a simple set of collision avoidance rules, most of which are based on common sense, e.g., a sailboat behind you on the same tack has no right to run you over, no matter how big and fast it is.  You can find the rules in Parts 1 and 2 of Racing Rules of Sailing.  Once you know what the rules say, think about what they mean, how they apply.  There are some other sites that provide animated examples…very helpful.  Of course, a real understanding of the rules requires experience.  If you're not confident that you can stay out of trouble with your own boat, try a race or two with one of our experienced skippers.  Or ask us to put an experienced racer on your boat for a couple of weeks.  Once you try it, that fear will evaporate.