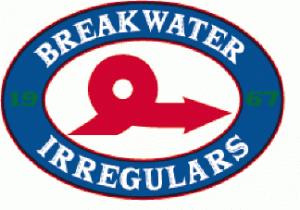 Tuesday Night Sailboat Racing near Stamford CT.
All are WELCOME to join us.
We race single-masted mono-hull sailboats of all sizes on Long Island Sound, south of Stamford, CT.  We do this on 16 Tuesday evenings every summer, ending on the last Tuesday of August.  The Breakwater Irregulars have been doing this since 1967…but it never gets old.
Our next event is an informal meeting of registered skippers and crew at 7 PM on Tuesday, May 8 at Stamford YC.  Racing starts the following Tuesday.
Enthusiasm is contagious.  Join Growth Spurt, Elan, Roo, Borderline, Xanadu, Chicken Wing  and Navis Bona as we form our 2018 Fleet.  Register NOW for our 52nd summer at YACHTSCORING.
Congratulations to our 2017 Boat of the Year, CHICKEN WING, and our Rookie of the Year, SUMMERTIME.  Winner of the 2017 Gourmet Award was BORDERLINE.
Wow, we thought we had a big crowd at our Golden Anniversary banquet in 2016, but then we had almost 30% more friends of BI at the 2017 dinner on November 18, 2017, over 200 guests!  Of course, it's not the numbers that count; it's the enthusiasm that they reflect.  Let's get more of those 200-plus guests–and some new boats–out on the water in 2018.  When it comes to fleet size, bigger is better, one reason being that it narrows the gaps between our "irregular" ratings.  And it makes the mark roundings so much more interesting.
During the meeting after dinner, the Commodore mentioned RaceQs, a tracking system used by boats in the most recent Gearbuster race.  It's FREE and it requires no central administration.  Participation on Tuesday nights is voluntary, but we encourage all our racers to try it.  As we near the season, we'll give you the latest information on our RaceQs page.
Congratulations to MILLER's CROSSING, a big winner at the Valeur-Jensen Stamford Denmark Race of 2017.  (And this reporter overheard Chris Miller saying, "I owe it all to my racing with the Breakwater Irregulars.")  Congratulations, also, to Kekoa, Belles Filles and Joyride, all winners in their classes.  BI was certainly well represented by these and the many other members who participated in the event.
On Friday, August 25, 2017, when our Ray Redniss was dubbed "Commodore" of the 2017 Soundwaters Harbor Fest in Stamford Harbor, Stamford's mayor formally proclaimed the date "RAY REDNISS DAY," in recognition of Ray's lifelong commitment to the Harbor and to the sport of sailboat racing.  Congratulations, Ray!  Well deserved.
In 2018, Spring Series races will be every Tuesday, May 15 through July 3, and Summer Series races will be every Tuesday, July 10 through August 28.  In each series, you count a limited number of scores, so missing a race or two is okay.  The banquet for 2018 will be on Saturday, November 17.  Mark your calendar.
NEW MEMBERS ARE ALWAYS WELCOME.  Registration for the Spring Series automatically includes the Summer Series, as well.  Each participating boat is also required to obtain a current PHRF rating from the Yacht Racing Association of Long Island Sound (instructions provided below).  No need to send it to us; the Race Committee will find it on the YRALIS site.
OUR FEE.  The annual fee per boat (which includes five personal memberships, regardless of the size of your crew) usually exceeds our actual expenses and we have no legitimate need for excess funds, so we apply the surplus to the annual awards dinner, as a "use it or lose it" discount against each boat's ticket purchases, for allocation by the skipper who paid the fee.  The fee serves two purposes.  One, it ensures that we have enough money to pay our necessary expenses.  Two, the surplus policy encourages representation of all participating boats at the dinner.  And it works.  We use your fee responsibly and transparently to make the program successful.  Any questions?
The Breakwater Irregulars have for many years supported Halloween Yacht Club's Mayor's Cup Race (Sunday, June 10 in 2018), Stamford Yacht Club's Weekend Series (schedule on our Links page), and other open races.  We routinely include this information to facilitate participation by our members and other sailing friends in these weekend races. 
What's a PHRF and how do I get one?
The Performance Handicap Racing Fleet system allows sailboats of different weights and sizes to race against each other.  We all know it's imperfect, but we should also acknowledge that a lot of effort is devoted to making the system as fair and accurate as possible.  To obtain or renew your boat's PHRF, go to YRALIS.org and sign up for PHRF membership.  As a club and as individuals, we are members of YRALIS because it has long been the most effective means of organizing and promoting our sport on Long Island Sound.  (By the way, its founding members were from Stamford.)
Want quick access to our Yachtscoring pages on your smart phone?  Go to www.yachtscoring.com/mobile/, select "List of Events – Long Series," and search for Breakwaters.  Then select the series, e.g., 2018…Spring Series.  Once on our menu page, the procedure varies by phone type.  On iPhone, select the upload icon and then "Add to Home Screen."  On Android, press the settings button (3 vertical dots), then the star.  Create a bookmark and then go back to settings to place it on your home screen.  [Android instructions obtained on-line; corrections welcome.]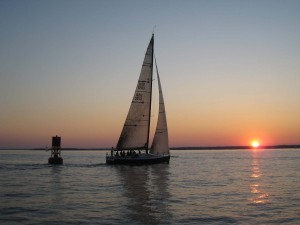 WE WANT MORE BOATS AND MORE SAILORS (and would-be sailors!)
Recruiting never ends.  Let's include every sailboat and sailor we can find, to ensure that our second half century is as good as our first.  Remind prospects that–in addition to three classes of spinnaker boats–we now have two classes of non-spinnaker boats, serving new racers, experienced racers with new boats, and racers who, whatever their reasons, want to compete without spinnakers.  This is our best response to those sailboat owners who say that lack of crew and/or top-of-the-line equipment prevents them from coming out on Tuesday nights.  It has been working in recent years, and a bigger fleet makes racing more fun for all of us.
Can you get there on time after work?  The first signal at the Cows Buoy (32) is at 1900 every Tuesday.
RACERS ON RACE COMMITTEE (RC)
Having racers serve as or assist the Race Committee is a longstanding BI tradition, dating back to 1967, when founder Dick Sockol officiated every race from his boat and, despite being last to leave the starting line, often won.  Before our Race Committee enjoyed the use of Stamford Yacht Club's On The Line, our sailboats took turns in that role.  Although our Race Committee now has a permanent and very able core group (THANK YOU, RC!), our racing crews still take turns assisting (and feeding) those valued volunteers.  Participants often remark that it makes them better racers to watch an occasional race from On The Line.  If your crew raced but did not serve in 2017, volunteer for a Tuesday in 2018 as soon as you register.  (You are welcome to volunteer in your first year, but should not feel obliged.)  We have about twice as many boats as races, so every crew should serve at least once every two years.  Besides, it's the only way you can win the coveted Gourmet Award.
CLEAR THE STARTING AREA
Penalties apply to boats that enter the starting area while other classes are in sequence (the five minutes before their start).  There is NO exception for boats that arrive late and want to check in.  Please consult the Sailing Instructions and the Racing Rules of Sailing for more information.
RADIO PROTOCOL
During the starting sequence, "don't call us, we'll call you."  The RC is busy during the sequence, so please let them do their job.  There is no checking in by radio and most of the questions that you might want to ask over the radio are answered in the Sailing Instructions (together with the signals displayed by the RC), which all skippers should read and understand in advance.
"Radio Check!"  No need for this on VHF-5.  For several years, SeaTow has provided a free automated radio check service on four VHF channels.  The channel for Western LI Sound is 27.  So, please, no radio checks on VHF-5, especially during our starting sequence.
WHY "BREAKWATER IRREGULARS"?
The "Irregulars" in our name means the fleet includes a broad range of sailboats and sailors.  Today's faster divisions include some impressive racing boats, but our irregularity began in 1967 with family cruisers, laden with galley, head, and bunks, sometimes even a washer, dryer, nursery and child retention netting on the lifelines.  It's friendly competition that gives us a weekday opportunity to enjoy our boats and the Sound.  That's why it just kills us to see any sailboat nurturing barnacles at its mooring while we leave nearby harbors on Tuesday evenings for every week's best time on the water.  Almost any mono-hull sailboat with basic safety equipment can be your platform for fun on Tuesday nights, so gather a few friends; come out and join us!  Just starting* out or can't find a full crew every Tuesday?  Simply prefer sailing without a spinnaker?  Try our non-spinnaker division.
"Breakwater"?  Well, 50 years ago, races began and ended at the Stamford Breakwater (which was about 25 years old at the time).  For several good reasons, we now start at the Cows Buoy (32) off Shippan Point, but the name is not changing…yes, because we rarely change anything.
BIG, FAST BOATS ARE WELCOME, TOO.
In recent years, we enjoyed the participation of Pterodactyl, Carbonado, and High Noon.  The biggest and fastest boats in any fleet can easily choose to race elsewhere, or just save their sails for the major regattas.  These boats sailed with us, when their schedules permitted, because they support what BI is trying to do for our sport.  We appreciate their participation and are always ready to welcome them and similar racing/teaching machines.
DE-MYSTIFYING THE RACE
During the 2012 Summer Olympics, an Irish comedian posted a video of sailboats jockeying for position before a race, with horns and flags aplenty.  (Easy to find, if you haven't seen it.)  His mock commentary pretends to confuse the pre-start with the actual race.  It's a laugh for some of us, but viewers without sailing experience probably watched and agreed with his comments, which boiled down to "What the heck are they doing?!"  Well, sometimes we still ask that question about each other's steering during the pre-start, but it becomes much more sensible after a few races.  And with the help of some plain-English explanation.
What exactly happens on the typical Tuesday night?  The Race Committee reads the wind, posts** a course, and anchors the signal boat in a position that forms a starting line between its line flag and Bell 32 (south of Shippan Point).  Boats start passing the stern of the signal boat to check in around 1840 and the starting sequence normally begins with an attention horn and flag at 1900.  Unless there is a postponement, one or more classes will start at 1910, followed by other classes at five-minute intervals.  Boats in the class that is about to start tend to sail away from the line and back to it, aiming to arrive at the favored end of the line with speed, clean air, and "right of way" at just the right moment.  (If you're new at this, just hang back a bit to stay out of trouble.)  The posted course takes us around one or more other buoys.  The courses are as windward-leeward as possible (sometimes leeward-windward), but we don't use support boats and inflatable marks, so we take what the wind and the buoys give us.  The format is designed to provide a worthwhile race and have us off the Sound before dark (or soon after dark in August).  The finish line is often where we started, but the Race Committee has the discretion to shorten the course if conditions warrant it.  Most crews go out for some food and refreshments afterwards.  We are well represented at The Colony Gill and other local restaurants.  (Stamford YC, where many of our boats moor, offers special dining and charging privileges to all BI racers on Tuesday nights starting in early June, and keeps the kitchen open for us.  You'll often find the RC there on the Vineyard Deck.)  Thanks to our vigilant RC volunteers, results are usually posted on Yachtscoring.com well before we finish dinner.
SAILING INSTRUCTIONS
On the Yachtscoring site for each series, you will find links to two important sets of instructions, titled NOTICE OF RACE (NOR) and SAILING INSTRUCTIONS (SIs).  The SIs supplement the Racing Rules of Sailing (see footnote below) with specific modifications for our races.  It is because of these documents that everyone knows when to get there, when to start, what channel to monitor on their radios, etc.  As mentioned above, the Yachtscoring site also provides each Tuesday's scoring results.
SIMPLE AND CONSISTENT RACING CALENDAR
We race on sixteen consecutive Tuesday nights (with the exception of July 4 when it is a Tuesday) every summer, ending on the last Tuesday of August.  The first eight races are the Spring Series; the second eight races are the Summer Series.  Once your crew gets a taste of Tuesdays, they'll be asking you to sign up for some weekend races in Stamford and nearby areas.  Examples: The [Stamford] Mayor's Cup Race is hosted by Halloween YC on the second Sunday of June.  Stamford YC welcomes us to its weekend races (7 race days ending with burgers and beers, all free, May through September), the Stamford Overnight in August, the Vineyard Race on Labor Day Weekend, the Valeur Jensen Stamford-Denmark Race in early September, and the Cows Trophy Race in October.  All are posted in advance on www.yachtscoring.com.
Still reading?  Okay, we'll keep writing.
If you like sailing and want to share the fun with your friends and/or family, well, that's exactly what the Breakwater Irregulars is all about.  There's a ton of fun to be had.  Everyone who sails on Tuesday evening feels like a winner, gets some good exercise, and improves as a sailor.  It always beats working late.
Friends and family?  It's amazing how long some of us have been sailing together.  We have crews that started in their 20s and 30s several decades ago, individuals who started as children on their parents' boats.  Some move about their boats more carefully now, but don't let that fool you.  The years have given them an intimate knowledge of the racing area, their boats, the weather, and each other.
No matter how you finish, there is no better way to learn how to sail your boat than to race it against similar boats.  The larger the fleet, the more similar the boats in each class.  So, recruiting more boats and more sailors is in everybody's best interest.
Sailing breeds great memories.  Our favorite way to end a Tuesday night is by de-briefing over some food and refreshments.  It's an opportunity to meet the people you beat around the buoys, or who beat you.  Racing is even more fun when we all know each other.
The awarding of prizes is an excuse for an off-season party, and we have one every year on the Saturday before Thanksgiving.  Save the date.  
This very casual, inclusive, and enduring association of sailors was founded in 1967 by Dick Sockol to race one evening a week on Long Island Sound near Stamford. (For more history go HERE.)  It's an important*** part of our lives, so it's no small thing that we invite you to become a part of it.
We know we're repeating ourselves, but registration opens six months before each season at YachtScoring.com, where (shortly beffore and during the season)  you can also find the scratch sheet, sailing instructions, and weekly racing results.  On our own site, Breakwaters.org (YOU ARE HERE), you can see photos and read about the club's history, our recognition of outstanding sportsmanship, and other topics by simply clicking on the tabs above. Any of our Officers will be happy to talk with you.
Don't have a boat?  Have a boat but not enough crew?  We have a "Crew Needed / Boat Needed" page on the Yachtscoring site.  Necessary spam safeguards make it somewhat balky, so, if you try it and it doesn't work, please contact us.  We'll make it work for you.  We love that kind of matchmaking!
Do you need a PHRF (handicap rating) for your boat?  You can obtain one on-line through the Yacht Racing Association of Long Island Sound at www.yralis.org.  BUT, if you want to try racing with us some Tuesday before getting a PHRF, go to our Officers page and contact one of us for instructions.  We're sure you and your crew will love it, just as we did the first time we tried it.
WELCOME to the fleet!
Oh, we forgot to mention the sunsets!  A great consolation when you just can't get the boat moving.  Please visit our Photos page.
And the rocks.  If you are not familiar with the racing area, check your charts.  The buoys we round are there for a reason.  We have not had any accidents of this kind in recent memory; let's keep it that way.
Rounding a mark.  Do I leave it to port or starboard?  The Sailing Instructions answer this question.  It's often a matter of common sense or simple convention, but not always, so be sure to read the SIs and bring a printed copy along.  Hint: "Leave it to" avoids the ambiguity of "round it to."
*The most common reason for sailboat owners NOT to race is the fear of causing a collision in all that fast traffic.  Despite the appearance of disorder, racers follow a simple set of collision avoidance rules, most of which are based on common sense, e.g., a sailboat behind you on the same tack has no right to run you over, no matter how big and fast it is.  (However, he does have the right to pass you to windward, which might bring you to a complete stop, so be mindful of that when you need wind to make it around that next buoy.)  You can find the rules in Parts 1 and 2 of Racing Rules of Sailing.  Once you know what the rules say, think about what they mean, how they apply.  There are some other sites that provide animated examples and quizzes…very helpful.  Of course, a real understanding of the rules comes with experience.  While learning, you can stay out of traffic or try a race or two with one of our experienced skippers.  You can do that on your boat or join someone else's crew for a couple of weeks.  Once you see how it works, you will be much more confident.
**In the old days, the course was posted with signal flags, and many a fast boat lost a race for failure to understand those flags.  Now, in an effort to focus the competition on sailing rather than flag-reading, the RC displays the course marks (de-coded in our on-line Sailing Instructions document) in neon lettering on a board and often reinforces this information with "courtesy announcements" on the radio.  [NOTE: RACING PROCEDURE DESCRIPTIONS ON THIS PAGE ARE NON-AUTHORITATIVE AND, IN PARTICULAR, ARE SUPERSEDED BY THE RACING RULES OF SAILING AND OUR OFFICIAL RACE DOCUMENTS.]  So, for example, if the board shows the course as "L," we all know we have to sail to the Lloyd Point Shoal Light #15 and back, and this will probably be reinforced with a plain-English explanation over the radio by the Race Committee aboard On The Line.  Free hint for those that have read this far down: Never underestimate the current near that buoy!  Flags are still used, together with sound signals, to mark significant times in the starting sequence.  The first horn, usually at 1900 and accompanied by raising of the "F" flag, signals Attention.  (We're on RC time now, so it's 1900, even if your watch says it's 1858.)  "F" is quietly removed at 1904.  Our starting procedure consists of one or more five-minute cycles, with no break in between.  So, for example, if Classes 4 and 5 are starting together in the first cycle, it will probably be announced over the radio that they will start together under a "4" flag.  The sequence is subject to postponement (signaled by sound and "answering pennant" up), but, USUALLY, the first cycle begins at 1905 with a WARNING signal (sound and class flag up), followed at 1906 with a PREPARATORY signal (sound and "P" flag up), at 1909 with a ONE MINUTE signal (sound and "P" flag down), and at 1910 with a START signal (sound and class flag down), which is also the WARNING signal for the next five-minute cycle (new class flag up).  And so on.  Understanding the class flags and the timing of the "P" flag allows us to keep track when we cannot hear the sound signals.  Too wordy?  Maybe this will help:
Typical Tuesday Start
1900   Attention     Sound and "F" raised
1904                         "F" removed.
1905   Warning      Sound and class flag(s) raised
1906   Preparatory Sound and prep flag (usually "P") raised.
1909                         Sound and prep flag removed.
1910   First start    Sound and class flag(s) removed.
Next class flag(s) raised
Technically, prep flag can be P, I, Z, Z & I, or black, but we rarely see other than P on a Tuesday evening.
***BI was so important to founder Dick Sockol that his family had his ashes scattered across our starting area when he passed away in 2005.
Any questions?  We'd love to hear from you.